Stage #1: Granville to Barneville-Carteret
Conditions were ideal for the first stage of the 33rd Manche Ports Race. The fleet enjoyed both wind and sunshine all the way from Granville to Barneville-Carteret, making this first stage up the west coast of la Manche a sailor's dream. On board the 81 competing boats, the crews had to keep making adjustments right up to the finish so as to try to gain an advantage and get off to a good start on this first day of the race.
Sailing to windward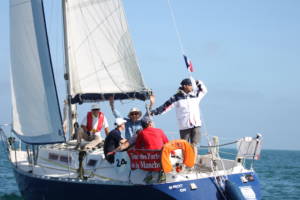 This morning, at Granville, the sun quickly burned off the morning mist to provide the competitors with ideal conditions for the start of this first stage. The fleet set off shortly after 10am with a light summer breeze, on a 30 mile course from Granville to Barneville-Carteret. The 81 boats competing in this 33rd Manche Ports Race quickly passed their markers and the competition began from the very first reach. After going round the first buoy moored at the bottom of the Pointe du Roc at Granville, the fleet set off towards the beaches of Donville-les-Bains before approaching Basse Jourdan, located offshore at Agon-Coutainville. A final long reach upwind brought the competitors up to the finishing line located a few miles from the entrance to the port of Barneville-Carteret. "Today, speed was essential", explained Philippe Rios, skipper of the boat Gwaihir Venturi, in fourth place in group 4.
"That's what enabled some boats to draw ahead, especially in the last few miles. At the end of the course we had to sail close inshore to be protected from the current and get a flatter sea. Today has been perfect. Sun, wind, we'd like more of the same!" he jokes.
Favourites in the lead
Not surprisingly, the Auguin family's Pied D'Alouette was the day's winner in group 1, followed by Ti'moun Plastimétal et Pacha. In group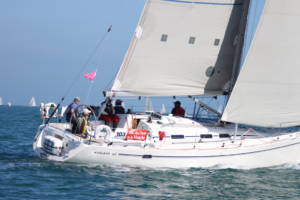 2, Axe Sails from Cherbourg takes first place, ahead of Roc Nere III and Monster 737, in second and third place respectively.
In group 3, Ambulances Jacques Lefèvre, skippered by Patrice Buisson, takes the lead, followed by Romilly and Défi Voile Adaptée. The favourites are still in the lead in group 4 with Manche Fibre Kunkel Palettes, les Rapetous and la Railleuse to be found on the podium for this first stage. Finally, for group 5, Ville de Donville, skippered by Olivier Rapeaud, is the victor, ahead of Crédit Mutuel and Pyranha Brothers.
The ranking for this first stage is in line with the forecasts, although of course after only one race, anything can happen!