Stage #2: Barneville-Carteret / Guernsey
For the second stage of the 33rd Manche Ports Race the fleet set sail for Guernsey. After a day of being pounded by wind and waves, the sailors' faces as they reached British soil looked thoroughly weathered. And they are tired both physically and mentally this evening because they've had to rack their brains to work out how to be first to reach the finishing line.
Heads or tails?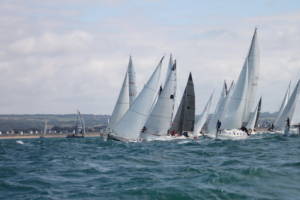 Today's stage of the Manche Ports Race has been extremely tough. The 81 competitors set off from Barneville- Carteret this morning for a voyage of 30 miles, entirely into the wind! Although the crews haven't had much manoeuvring to do, the tacticians and helmsmen have really had to think hard about the route set by the race committee. From the start line, the crews needed to reach the Lower Heads buoy, located a few miles from the entrance to the port of Guernsey. Between the two is a large expanse of open sea, giving the boats the choice of whether to go round the island of Sark to the north or the south, a real conundrum. Analysing the currents was the key to benefitting from the freedom of options in today's stage
Changes in ranking….
In group 1, we have the same leaders, and it seems that nothing is going to stop the Auguin family's Pied D'Alouette. Behind them, Ti'moun Plastimétal and Pacha retain their second and third places respectively. In group 2, Roc Nere III is the victor, while Folies d'amour takes second place ahead of Monster 737.
In group 3, Défi Voile Adaptée is showing persistence and is the winner of today's stage. In group 4, la Railleuse wins today's stage ahead of the local crew, Blue Jade, and Manche Fibre Kunkel Palettes, who were in the lead yesterday. Finally, for group 5, today's results have shaken up the overall ranking. Although Ville de Donville is still well ahead of her competitors, Vincent Bunel's Crédit Mutuel, which was second yesterday, came in tenth today leaving room for Piranha Brothers, followed by Phénomène, skippered by Fabrice Baccala. Also worthy of mention in this group is the climb in ranking of Harold Cornier's J105, Ginette, which finished tenth yesterday but fourth today.
Tomorrow, the wind isn't going to let up, so the third stage, linking Guernsey to Jersey, will be challenging. This is not an evening to get caught up in the atmosphere of the British pubs – tomorrow it's a 10 o'clock start.