Stage #5: Diélette / Cherbourg
Fifth day of the 33rd Manche Ports Race. Today the fleet set off for the unmissable Diélette/Cherbourg leg, a course of 25 miles passing through the strongest currents in Europe. The turbulent crossing of the Alderney Race lived up to its reputation, but the sun and the wind combined to give the 600 participants a magnificent day's race, ending with a technical course off the Collignon beach at Cherbourg.
From currents to calm
Jean-Baptiste Le Goubey, skipper of Les Folies D'Amour, 5th in the overall ranking of group 2, told us about the day:
"We got up early this morning, much too early for the morning after an evening in Diélette", he jokes. "Fortunately we were alongside another boat, and our neighbours very kindly woke us up, otherwise we'd still be there. We had a wonderful day of racing today. After the start we had the spinnaker up until we reached the entrance to the Alderney Race where we had to lower it because the wind had turned and dropped off. We had more than 7 knots of current in the Race and big waves too: it was amazing to watch the coast passing in front of our eyes. After that we were sailing into the wind until we arrived in Cherbourg harbour. We were really pleased that the race committee decided to continue with a technical course. It's something different, and it's better for us because with our little boat it's hard to compete with the larger ones. But on a technical course the manoeuvres are far more important and that gives us a chance.  And it's also really fun to be able to sail in contact with the other crews.
This Manche Ports Race is really fantastic! We're hoping to end up on the podium even though the most important thing for us is to have enjoyed ourselves with friends."
Ranking update
After two more valid races today, the overall ranking is confirmed. In group 1 Pied d'Alouette, skippered by Pierre Auguin, has a commanding lead. After winning every stage since the beginning of the Tour, her crew is practically certain of victory in this 33rd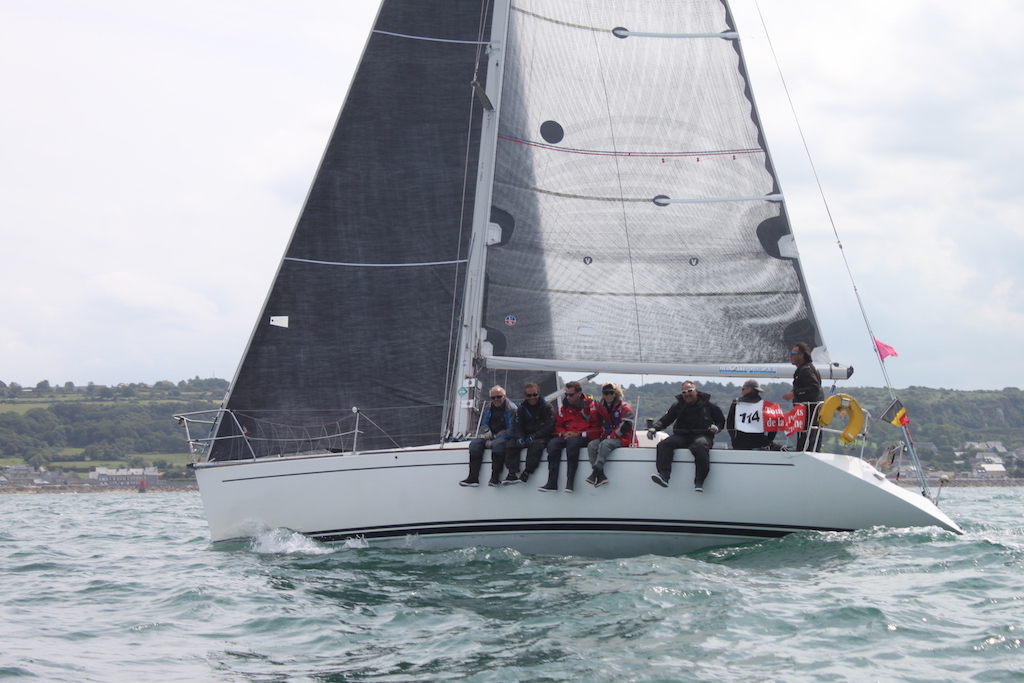 edition. Behind her, Ti'moun Plastimétal and Ysland retain second and third place respectively.  In group 2, Monster 737 has re-taken the lead after a successful day, followed by Axe Sails and Roc Nere III, relegated to third place today after a slight under-achievement. Défi Voile Adaptée, skippered by Thierry Fortin, remains in first place in group 3, while Vincent Goullet de Rugy's Ti'Boat and Roger Renaud's Romilly complete the top three. It's been a great day for Gwaihir Venturi, skippered by Philippe Rios, which returns to third position in group 4 after today's two races, ahead of the Rapetous. Manche Fibre Kunkel Palettes is still in first place, ahead of la Railleuse. Finally, in group 5, Ville de Donville retains first place in the overall ranking, ahead of Crédit Mutuel who won the last race of the day. In third place, the crew of Unicaen has confirmed its lead over its direct competitor Pyranha Brothers.
Tomorrow sees the final stage of this 33rd Manche Ports Tour – Cherbourg / Saint-Vaast-la-Hougue.