End of the Race
The 33rd Manche Ports Tour ended today after a final leg between Cherbourg-en-Cotentin and Saint-Vaast-la-Hougue accomplished in less than three hours. This 2017 edition has enjoyed near perfect weather conditions enabling all 81 competing boats to validate all the race stages which had been planned. The Manche Ports Race can now reveal the names of the weeks heroes.
The Saint-Vaast Express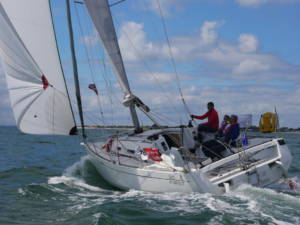 Covering 25 miles in under three hours, the fleet didn't hang around on the final Cherbourg-en-Cotentin / Saint-Vaast-la-Hougue leg. The competitors in the 33rd Manche Ports Race left Port Chantereyne at 9am for a start opposite the beach at Collignon. The spinnakers were soon flying under sunny skies, and quickly brought the fleet to the race of Barfleur. Helped by the strong current, the boats rounded the Gatteville lighthouse at top speed before rallying at Saint-Vaast-la-Hougue, the port of arrival for this 2017 edition.
And the winners are
The impressive Auguin family has carried out a faultless performance this week. The crew have won all 7 races in the 2017 Manche Ports Race and are thus the victors in group 1. Ti'moun Plastimétal, skippered by Jean-Luc Perrée, ranks second, followed by Eurian, skippered by Vincent Bourget, who takes third place on the podium as a result of a consistently good performance.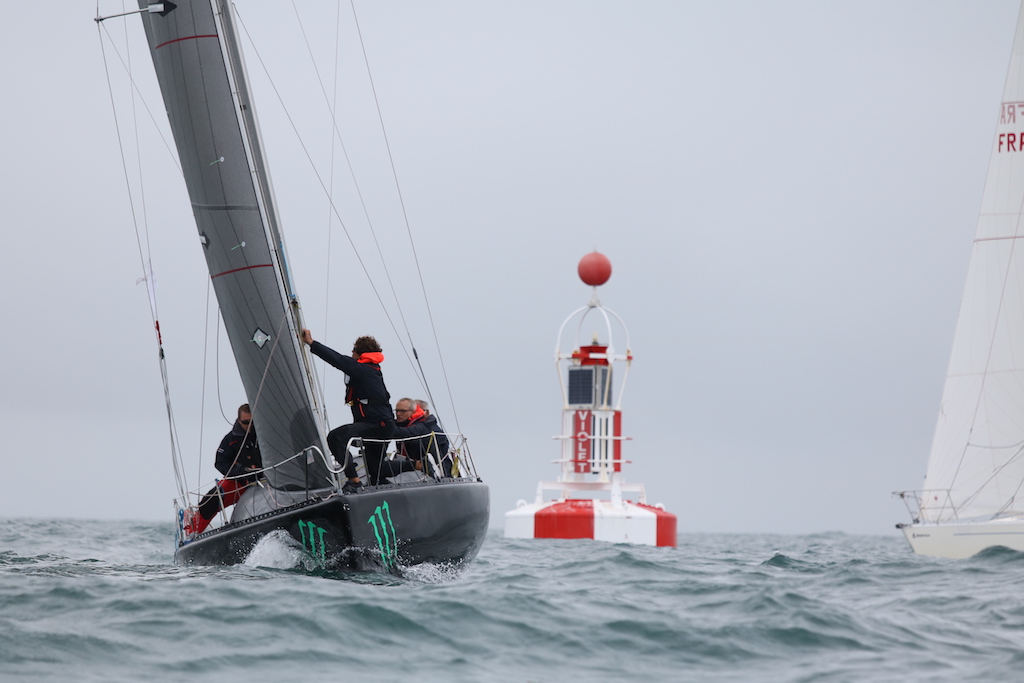 In group 2, after a terrific battle between the leaders all week, in the end it's Monster 737, skippered by Didier Angot who takes the top step of the podium. Only a single point behind, Axe Sails, skippered by Marc Gadbin, is second, followed by Arnauld Leroux's  Roc Nere III.
Thierry Fortin and his crew take the trophy for the 2017 Manche Ports Race in group 3, with Défi Voile Adaptée. The four stages they won must have helped! Behind them, Vincent Goullet de Rugy's Ti'Boat and Rapido II, skippered by Paul Angot, take second and third place respectively.
Robert Bregeon's La Railleuse is the victor in group 4, followed by Gwaihir Venturi, skippered by Philippe Rios, and the Rapetous, skippered by Jean-Luc Pronier.  Although Manche Fibre Kunkel Palettes was the winner of four stages, in the end a penalty cost her the podium: during the Jersey / Diélette leg, Jan Legallet's crew sailed into a prohibited zone.
Finally, in group 5, Olivier Rapeaud's Ville de Donville takes first place in the overall ranking, ahead of Crédit Mutuel, skippered by Vincent Bunel, and Pyranha Brothers, skipped by Philippe Lehoux. Unicaen, skippered by Gilles Mesnil, missed the third step on the podium by a single point after a subdued performance on the final leg.
The award ceremony took place at 7pm yesterday evening at the port of Saint-Vaast-la-Hougue, where all the crews participating in this 33rd Manche Ports Race were invited to a dinner followed by fireworks at 11pm. The unanimous verdict on this edition is that it has been magnificent, and everyone will come again. It's a date!
What they said
"The weather has been beautiful, which is great. We've done lots and lots and lots of tacking but in fact that's worked for us. As far as the crew's concerned, we sail as a family, so we argue a lot but we forget about it quickly once we're on land with a drink. The Jersey / Diélette leg was particularly memorable: it was our best race and we were more than an hour ahead of the competition. One thing is sure – we'll definitely be back next year!" Pierre Auguin, skipper of Pied d'Alouette, (Aquila), winner of group 1.
"It's gone really well for us. Atmosphere on board, atmosphere on land, everything's been perfect. The last leg was fantastic with our Monster 737 peaking at 12.8 knots. Within our group we've spent the whole week battling to win. It's been a real contest between Roc Nere III, Axe Sails, Dear Nane and us. From the sporting point of view it was brilliant!"  Didier Angot, skipper of Monster 737 (Le Monstre 737), winner of group 2.
"A fantastic week! We've had ideal conditions with a medium wind each day, which is perfect for the capabilities of both boat and crew. If we had to single out one leg to remember, it would be Barneville-Carteret / Guernsey, because of the scenery. And the technical course was a surprise. We weren't terribly keen on that kind of test and then we won. And then we also had a wonderful sail from Jersey to Diélette. Well, in fact, they were all wonderful, nothing to be forgotten from this edition!" Thierry Fortin, skipper of Défi Voile Adaptée (Sun Fizz 40), winner of group 3.
"A beautiful week with lovely weather. We probably frightened the crabs several times tacking close in to the rocks but everything was fine in the end. We worked really hard on board – adjustments, tactics, the crew gave everything they had for every stage. The race from Jersey to Diélette was definitely the hardest for us to win because we spent much longer fighting against the current than our direct competitors, but we made it." Robert Bregeon, skipper of La Railleuse (¾ tonner prototype), winner of group 4.
"Everything went well for the first part of the week, and then things were more difficult on the Jersey / Diélette and Diélette / Cherbourg legs. But today, the weather and the course were ideal for us. We were doing more than 14 knots at Barfleur! Guernsey / Jersey is the leg we'll remember most, with fantastic manouevring between the rocks and the competition way behind. We'll be back next year but not with this boat, it'll be a surprise!" Olivier Rapeaud, skipper of Ville de Donville (Actual 46), winner of group 5