Stage #1 : ahead to Cherbourg-en-Cotentin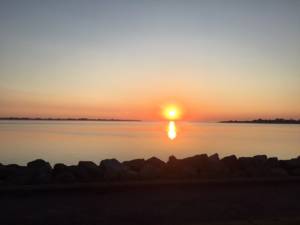 Early start for the 85 competitors registered for this 34th edition of the Tour des ports de la Manche. From 6:30, this morning, the boats left the port of Saint-Vaast-la-Hougue enjoying of a magnificent sunrise.
The race committee started the departure procedure at 8:30 am while the fleet enjoyed ideal sailing conditions: 10 knots wind, sun and flat sea. The fleet, upwind, is currently heading for the Raz de Barfleur that the first competitors should cross in less than an hour before pointing their bows towards the Baie du Becquet.